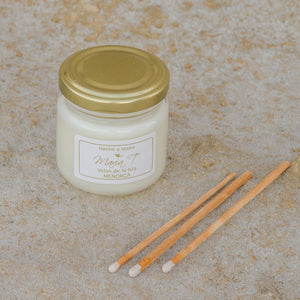 A woody and spicy aroma. Oriental style. Only for connoisseurs.
With cedar and vanilla as base essences.
The piece, being made of transparent glass, is very bright when turned on. And, it is also consumed in its entirety.
Maria T candles are made with soy wax and a personalized combination of natural vegetable waxes. They contain high doses of fragrances infused with premium essential oils to guarantee a delicious olfactory experience. 
Product Details
A candle
Approximate net weight: 80 grams
Measurements: 5.5 diameter x 6 cm high
Aroma: Woods
Material: Cristal