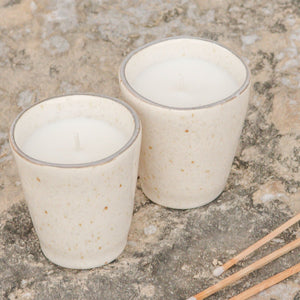 Juego de dos velas en dos aromas distintos de carácter fresco y floral: ISLAND y SEA.

Aroma Island: Chamomila como fragancia principal en combinación con notas de  maderas cedro y otras flores.
Aroma Sea: Una exquisita combinación de esencias de lavanda, jazmín, rosas y fresias
Colecciona las piezas para tomar luego café en ellas.
Las velas Maria T están realizadas con cera de soja y ceras vegetales naturales. Contienen alta dosis de fragancias infundidas con aceites esenciales premium para garantizar una deliciosa experiencia olfativa. 
Detalles del producto (Por vela)
Peso neto aprox: 120 grs
Medidas: 6, 5 diámetro x 7 cm alto
Aroma: Flower of the Island y Sea.
Material: Cerámica Gres decorada a mano
Precio por las dos velas.