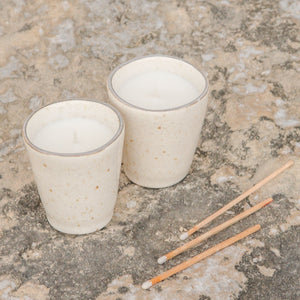 If you have ever visited Menorca, the perfume of this candle will make you remember your best experiences along the Camí de Cavalls in spring. And if you haven't visited them yet, it will encourage you to imagine it.
Its main note is Chamomile, the most characteristic flower of the Island that, combined with other essences, transmits an exquisitely fresh and floral aroma.
Maria T candles are made with a custom blend of vegetable waxes and a high dose of fragrances infused with premium essential oils to ensure a delicious olfactory experience. 
Product details (Per candle)
Approximate net weight: 120 grams
Measurements: 6.5 diameter x 7 cm high
Aroma: Island - 2 strands
Material: Ceramic Stoneware decorated by hand
Price per candle. a unit.