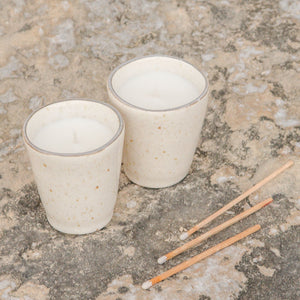 Two exquisitely scented candles in a handmade ceramic piece. Then, once consumed, you can use the glasses to share a coffee with whoever you want.
Its SEA essence, based on an extremely fresh, airy and floral essence that combines notes of freesia, jasmine and roses. 
Maria T candles are made with a custom blend of vegetable waxes and a high dose of fragrances infused with premium essential oils to ensure a delicious olfactory experience. 
Product details (Per candle)
Approximate net weight: 120 grams
Measurements: 6.5 diameter x 7 cm high
Scent: SEA
Material: Ceramic Stoneware decorated by hand