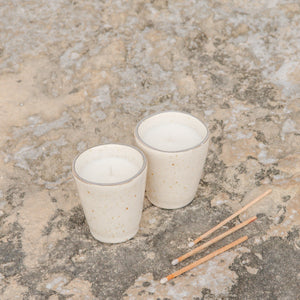 Reminiscences of oriental aromas, which will transport you to a state of presence and plenitude. Notes of incense, among other essences...An intense and warm aroma. A balm for your senses. In a coffee glass that you can later use once the candle has burned out.
Maria T candles are made with soy wax and natural vegetable waxes. They contain high doses of fragrances infused with premium essential oils to guarantee a delicious olfactory experience. 
Product details (Per candle)
Approximate net weight: 120 grams
Measurements: 6.5 diameter x 7 cm high
Aroma: Stone
Material: Ceramic Stoneware decorated by hand
Price per candle. a unit.