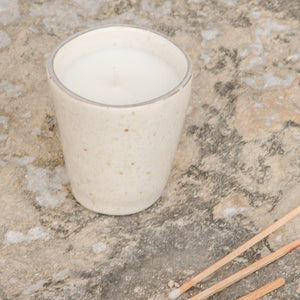 The irresistible aroma of fresh herbs from the Island in summer. Refreshing, fruity and citrus at the same time.
With Mint essence as the main note, ginger and lemon as complementary fragrances and shhh... an herbal essence that gives it its special character.
Maria T candles are made with soy wax and natural vegetable waxes. They contain high doses of fragrances infused with premium essential oils to guarantee a delicious olfactory experience. 
Product Details
A candle
Approximate net weight: 120 grams
Measurements: 6.5 diameter x 7 cm high
Aroma: WIND
Material: Ceramic Stoneware decorated by hand
Price per candle. A unit-